Boggs Center Newsletter – Another Education/Mayoral control
———- Forwarded message ———-
From:
Grace Lee Boggs
Date: Sat, Jul 17, 2010 at 11:57 PM
Subject: NEWSLETTER- Another Education/Mayoral control
Click to view this email in a browser
| | |
| --- | --- |
| Living For Change Newsletter | |
Don't Miss "A Breath Of Hope," Stories from Detroit, FLYPmedia, no. 23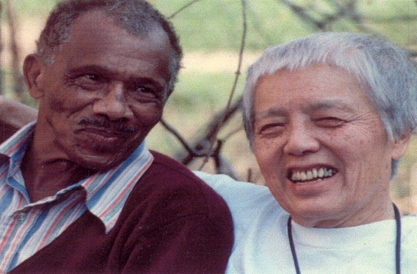 Boggs Center to nurture community leadership
"Radical action requires hope and the knowledge of alternatives, not merely
desperation." – Alfred E. Young:  Beyond the American Revolution.
LIVING FOR CHANGE
Another Education is Happening
By Grace Lee Boggs

In the Peoples Movement Assemblies (PMAs) of the USSF, local groups shared strategies towards more democratic ways of Education, Health, Housing, Utilities, and other fronts of struggle.

I participated in the Education PMA with 350 people from over 20 organizations, facilitated by Shea Howell (Detroit) and Scott Nine (Chicago).  This report is based on Scott's summary.

Bill Ayers (University of Illinois, Chicago) began by acknowledging the messiness of the process. He encouraged everyone to participate generously and let something powerful happen.

Facilitators invited participants to greet a few folks around them. Parents, youth, grandparents, urban, rural, shouted out their presence.

Kim Sherobbi, a Detroit public school teacher for 25 years and I framed the moment as we see it.  Mia Henry described organizing a Freedom School in Chicago.  Civil rights veteran Vincent Harding shared a long-cherished idea on education.  "As citizens in a country that does not yet exist, how do we prepare a young person to participate in a multiracial democratic society?"

The PMA then broke up into working groups of 12-15 to discuss best practices for democratizing education, available resources, and how people are transforming schools into centers for community change.

As groups shifted from general discussion to generating resolutions to take to the National Assembly, the room was reorganized for a fishbowl, consisting of the framing speakers, a representative of each breakout group, and an open chair for new participants to enter the fishbowl.

As fishbowl participants changed, group representatives were asked to explore what was "shared" in their group. The fishbowl was then asked to name specific actions or resolutions.

Strongly Affirmed Resolutions
1)    We face a crisis that is both deeply challenging and full of possibility.  We can move beyond a dying system to transform our educational practices to prepare youth to participate in a democratic, multiracial, and sustainable society.

2) Young people who experience democratic education are
•    confident, creative, generative, passionate, empowered, independent, interdependent.
•    have power; their school belongs to them, they count.
•    possess knowledge of history and solidarity.
•    feel honored, nurtured, respected, connected
•    have no sense of artificially imposed limitations.
•    have lost the sense of entitlement that many Americans often have.
•    connected to their life purpose and the future before them.
•    filled with the joy of being alive;  know the joy of play.
•    know they come from some place and have a sense of purpose and connection and tools to interact with that        place.  Know they are going somewhere and have the skills and tools to enter into a new place and connect with new people, spaces, and challenges.
•    understand that learning is a collaborative process.
•    possess creative and critical thinking skills and the ability to synthesize.
•    have a reverence for other beings and the planet.
•    understand food and its relationship to the ecosystem.
•    see the world clearly and beyond the current moment.
•    leave school feeling healed, expanded.
•    have the tools, literacy, and power to move through the world they inhabit.

3)    We call for all people taking up the education of our youth to the responsibility of understanding and connecting with people, place, power, oppression, and the history relevant in that location.  We think this must be a fundamental and required aspect of teacher training.

4)    We call for the elimination of high-stakes, standardized tests and replacing them with relevant, rigorous, community-based assessments.

5)    We will network, document, and share our work more effectively with each other.  We begin by sharing the contact information of PMA participants and the documentation of the PMA.

6)    We seek to reform the property tax system and other formulas that create inequitable funding for schools.

7)    We seek to replace zero tolerance polices in schools with restorative justice practices.

8)    We affirm October 7th as a National Day of Action for youth, parents, educators, and all allies who want educational justice and transformation.

9)    We support the creation of a National Student Bill of Rights and effort to ensure Quality Education as a Constitutional Right.

10) We aim to reconcile or incorporate some of what seems right within community-powered alternative charter and private schools (more local control, more flexible, more personal) while challenging the corporate led privatization of schools.

——
Another Education is Possible by Julia Putnam, Shea Howell, Grace Lee Boggs, Shari Sanders, Emma Fialka-Feldman and Bill Ayers. 82pp, Spiral bound, $5+$1 SH from Boggscemter.org/

THINKING FOR OURSELVES
NO to Mayor control. YES to Community.
By Shea Howell

The debate over control of Detroit Public schools is intensifying. Last week three important events happened. First, the elected school board selected community activist Elena Herrada to join them. Ms. Herrada brings vision and passion to the board and a long history of working on behalf of the community. Second, citizens under the name of We the People testified before the Detroit City Council, objecting to the very idea of mayoral control of the schools. Finally, Council President Charles Pugh, who appears to be at least willing to listen to new thinking, indicated to Rochelle Riley that he is not necessarily in favor of mayoral control.

The Mayor's effort to seize control of public schools is wrongheaded and dangerous. It is part of a larger scheme, backed by corporate interests, to destroy the democratic responsibilities of public education and to make money off the bodies of our children while limiting their minds.

All over the country there are increasing attempts, supported by the Secretary of Education, Arne Duncan, to seize control of the schools.  Duncan recently said to a group of mayors and school superintendents, "At the end of my tenure, if only seven mayors are in control, I think I will have failed."

In the Spring of 2009 Rethinking Schools said that Duncan "has shown himself to be the central messenger, manager and staunch defender of corporate involvement in, and privatization of, public schools, closing schools in low-income neighborhoods of color with little community input, limiting local democratic control, undermining the teachers union and promoting competitive merit pay for teachers." Having the mayor in control makes these efforts much easier.
While the mainstream press never tires of telling us how bold and exciting mayoral control of schools can be, no credible data exists to support the conclusion that it leads to better education for our children. Here are some examples of what research does tell us.

Professor David Hursh of the University of Rochester's Warner School of Education has studied mayoral control in Chicago and New York. His latest book is High Stakes Testing and the Decline of Teaching and Learning: the Real Crisis in Education. Hursh concludes, "The results that they tout, in terms of rising test scores and other gains, in fact have not really been achieved. They're really based on test scores that are not reliable, that are not valid. Test scores have gone up in all the school districts in New York State because, basically, the tests have been made easier. We've really seen in Chicago and New York City a decline in public input, a decline in accountability, and a lack of debate over what schools should be doing."

Educational psychologist Gerald Bracey published a careful study of the claims for Mayoral control through the Education in the Public Interest Center at the University of Colorado at Bolder. Pointing to Chicago and N.Y. as the two most consistent examples of Mayoral control, Bracey asks, "Is there evidence that over these seven-year periods (when Duncan was CEO in Chicago) the schools have improved?" His answer is a clear NO.

He concludes, "A close look at the two most visible exemplars of mayoral control, Chicago and New York, yields results that counter the image created by those in control.  'Reforms' that are supposed to help children do better are primarily used to make the adults who control the schools look good. Performances on tests that are subject to manipulation show improvement. Performances on tests that are free of manipulation show no improvement and no closing of ethnic achievement gaps. In reading the literature about the mayoral systems, one repeatedly encounters words like bully, authoritarian, autocratic, arbitrary, intrusive, despotic, dictatorial, disenfranchisement, rubber stamp, exclusion (of parents), even 'Brezhnev-era Soviet Union.'"

We need to stop efforts to shift control of our schools into the hands of a mayor who needs to make himself look good. It is time to start building on the visionary, community- based practices that promise the kind of education we need to create citizens for the 21st century.
Forward this message to a friend | phone: (123) 555.1212
---
If you no longer wish to receive these emails, please reply to this message with "Unsubscribe" in the subject line or simply click on the following link: Unsubscribe
---
Boggs Center to Nurture Community Leadership
3061 Field Street
Detroit, Michigan 48214
US Read the VerticalResponse marketing policy.
Posted via email from